Honeybee - RECEPTION
Welcome to Honeybee Class Page!
Meet the team:

* Important Dates for the Diary *
Tuesday 5th February - Chinese New Year Stay and Play Session
Monday 18th February - Half Term Holiday Begins
Monday 25thFebruary - Spring Half Term Begins
Tuesday 26th February - Parents Evening 1
Wednesday 27th February - Parents Evening 2
Thursday 7th March - World Book Day
Friday 29thMarch - Mothers Day Stay and Play Session
Monday 1st April - Class Photos
Friday 5th April - Easter Holiday Begins
14.12.18
We have a wonderful and extremely busy week with all of our nativity performances, a Christmas lunch and a pantomime trip! The Honeybees have represented the school beautifully on our first school trip and we couldn't prouder. They should also be very proud of their nativity performance - 'Busy Busy Bethlehem' it was a joy to watch! To continue the Christmas celebrations we had our Christmas lunch this week and we all enjoyed singing to the Christmas songs, eating the delicious food and wearing our party hats! The children are now eating more independently and using their knife and fork to cut their food, giving them a great sense of an 'l can do it' attitude and strengthening their 'writing muscles'. We have also set ourselves the challenge of reading words that have been written on our fruit before eating them at the snack station! Well done Honeybees!
Fred talking our sounds to blend and read a word.
Enjoying Christmas lunch!
7.12.18
The children have been busy learning all about 'The Jolly Christmas Postman' and have been using our jolly postbox in class to send Christmas cards to each other! They have also been busy preparing Christmas decorations. We have now decorated our classroom with the Honeybee's beautiful designs of snowflakes, Christmas trees and paper chains.
30.11.18
We have been looking at animals that hibernate this week and the children have enjoyed using their sounds to write about all the animals. We have continued to think about shape, space and measure when playing a hiding game! The children were fantastic at helping Mrs Lawrence find the animals by using positional language.
We have been busy practising for our nativity too and we hope to see you at our performance on Friday 14th December.
23.11.18
This week we have been thinking about 2D shapes and using them in our every day play. We have been looking for shapes everywhere we go - why not try at home and see how many shapes we know! We have even discovered we can make shapes in PE!
16.11.18
We had a very exciting week with our visitor Percy the Park Keeper popping in to say hello and answer some questions the children had prepared. We were very proud of how polite and inquisitive the children were asking many questions such as;
"How do you build so many things?"
"What happened to the golden treasure?"
"What tools do you need?"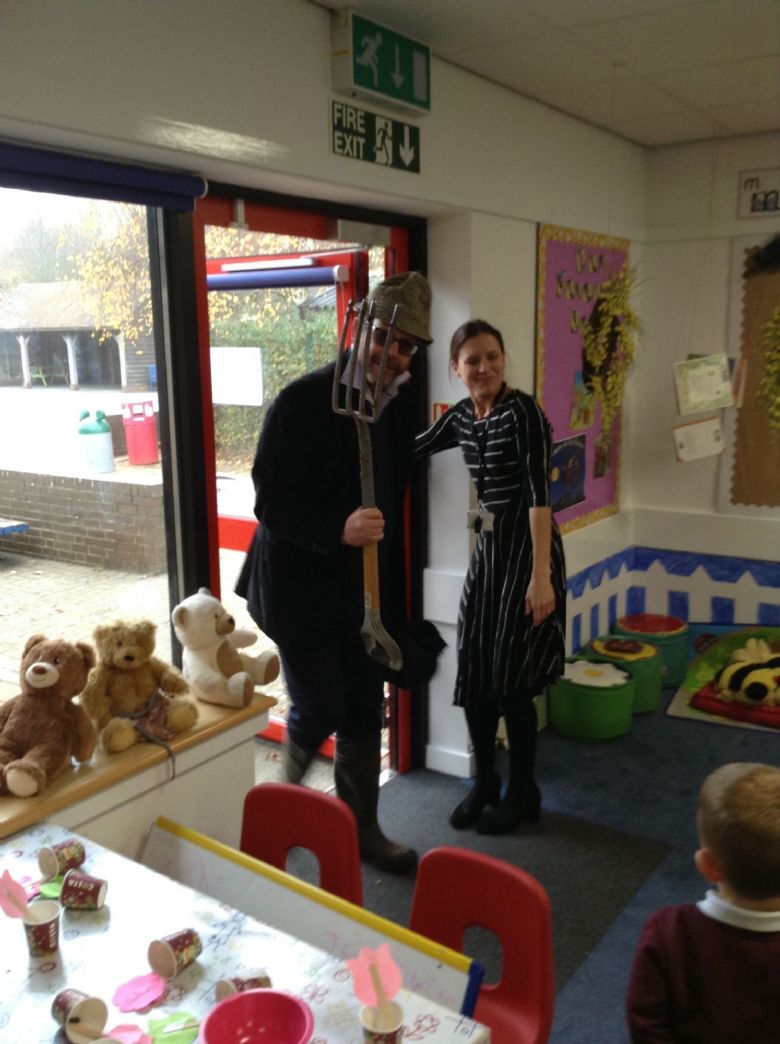 We then ended the week with a brilliant day of fundraising for Pudsey! Well done everyone for making such a great effort to wear spotty clothes and raise money for Children In Need.
9.11.18
The children have been in Percy's shed this week! We have been thinking about how we can help Percy estimate how many vegetables he has and then check by touch counting, how we can help fix his tools and how we can build and create dens for all the animals in his park!
"Fixing Percy's shed!"


2.11.18
This week the children have returned full of energy and ready to learn all about Autumn and our new topic Percy the Park Keeper. The children have particularly enjoyed creating pictures and maps of our 'welly-walk'.

19.10.18
Wow! Well done Honeybees for such a great first half term! Everyone has been Honeybee of the day because they have all been such wonderful Honeybees! Keep looking for sounds and numbers everywhere you go during the half term and have fun! Below is a photo of the fun we have had in class ...
"Building, reading and telling stories in the book corner and gonoodle!"
12.10.18
We have had a fantastic week thinking about our houses and 'The Three Little Pigs'. The children have also enjoyed PE in the hall with all the equipment! Well done Honeybees for being so active!
05.10.18
This week we have been thinking about our senses! We have had a busy week smelling, tasting, touching, listening and seeing. The Honeybees have also had visitors from the school nurse and an optician. Well done Honeybees for such a busy week of using your senses!
"We are at the opticians!"
The school nurse visits the Honeybees and Ladybirds!
28.09.18
The children have had a wonderful first month at school. We have learnt many new sounds through 'Read Write Inc' and we have been thinking about 'Marvellous Me'. So far we have been looking at our families through the story of 'Goldilocks and the Three Bears'. We have been sharing the story through many activities and the children have really enjoyed being so creative!
Our First Week
The children have had a fantastic first week! They have settled in beautifully and we have learnt all about our new school! We have started learning phonics, had our first PE lesson, discovered what we have in our classroom during exploring time and we have started eating our delicious lunches with the rest of the school. We are all very proud of how well the children have adapted to school life... let the fun, learning journey continue!