Buzzard - YEAR 5

Meet the Team!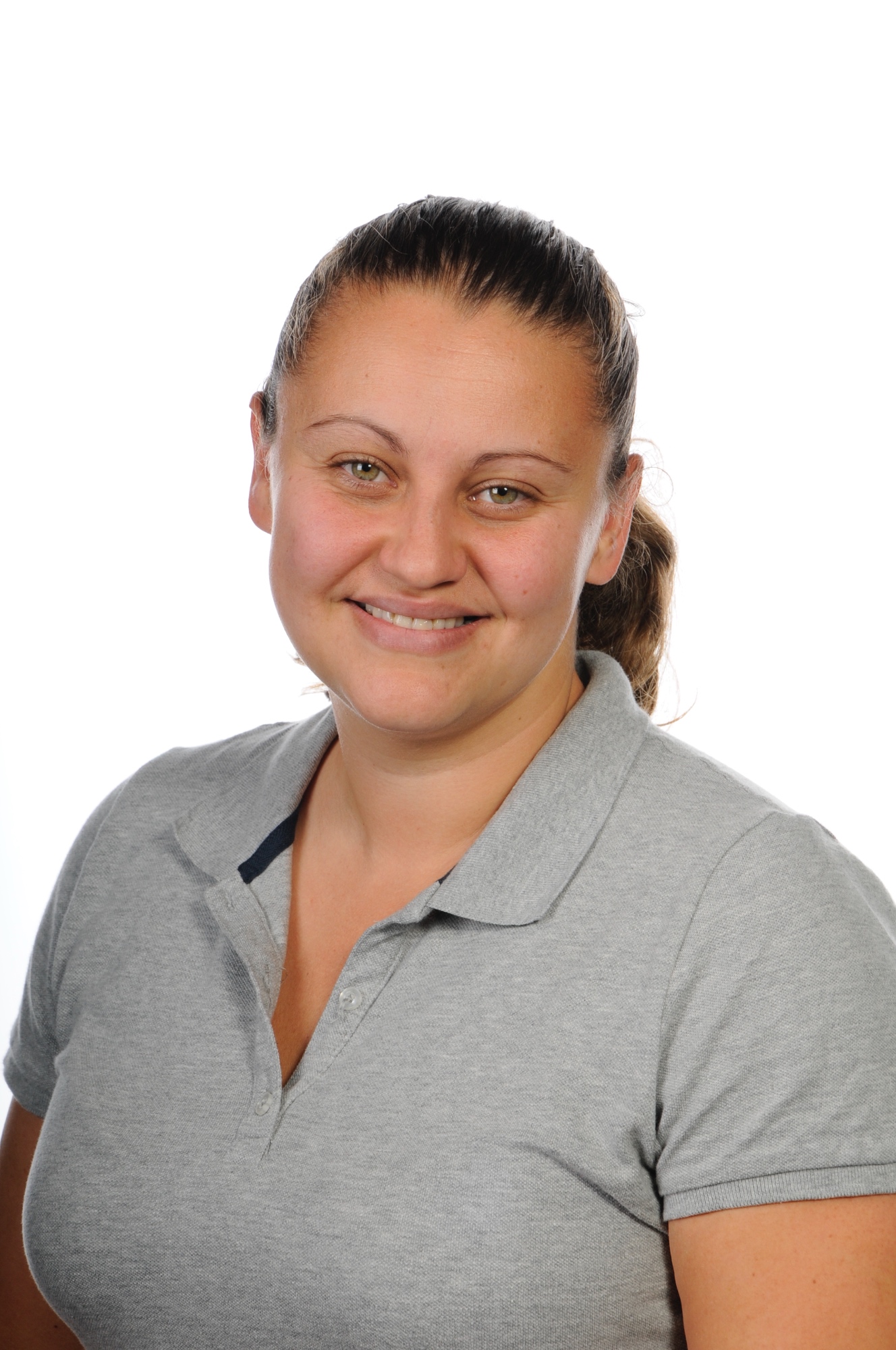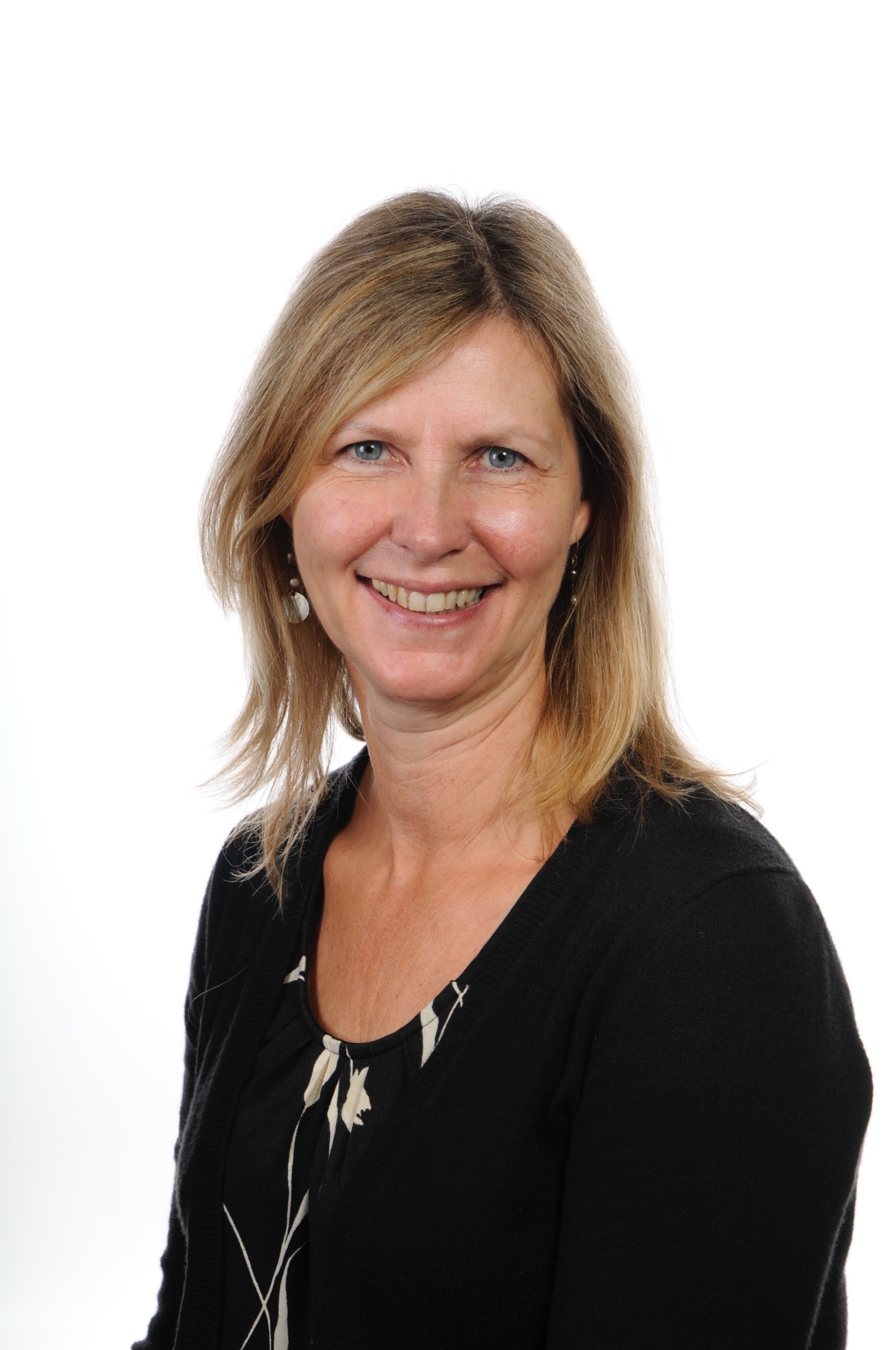 The Lost Thing
We have been writing our own versions of the 'The Lost Thing' by Shaun Tan. Here are some of our stories on display. Please come and have a read.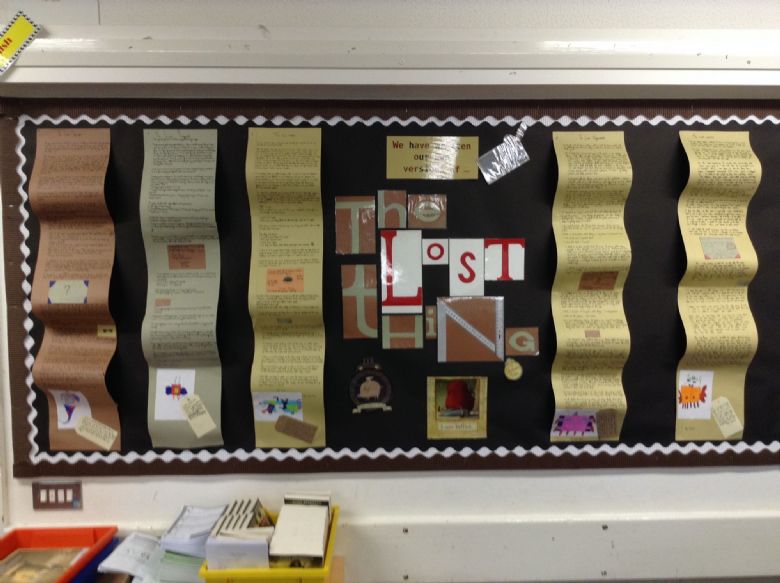 Testing Solubility in Science
We tested which house-old materials were soluble.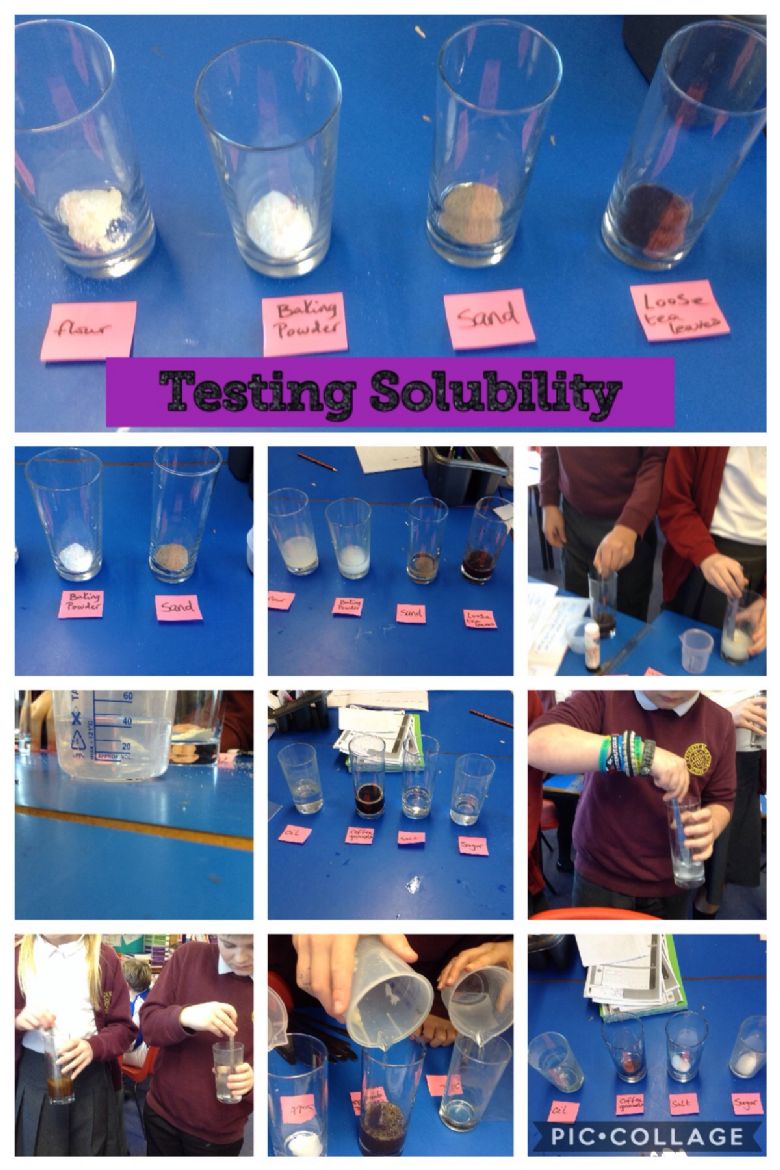 The Lost Thing By Shaun Tan
We have been looking at the The Lost Thing film and book. Today we had to Sequence stills from the film and choose 5 of the main events that occur in the story.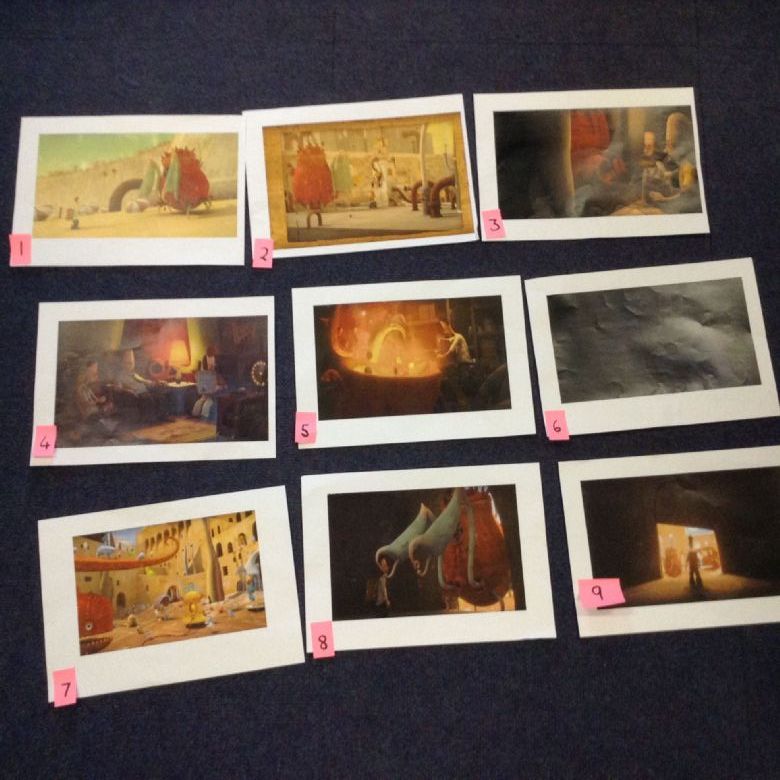 We are loving this inspiring story by Shaun Tan. Watch the film to see wht it is about.
https://www.snotr.com/video/10101/The_Lost_Thing_-_Short_Film
Circuits with Year 1
We had to share the hall with Year 1 for P.E as it was raining. So we got into small mixed groups and did 10 different circuit activities. Our favourite was the commander crawling under the mat station. Even Mrs Shotliff had a go :))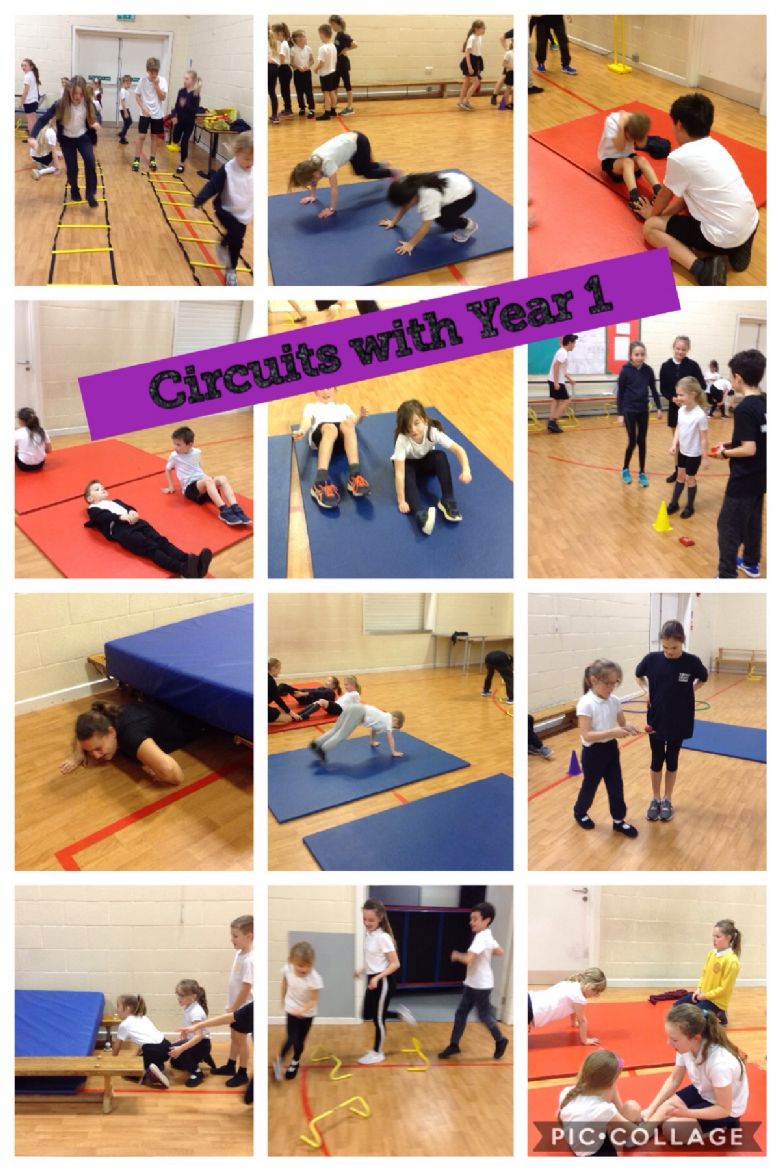 Welcome Back to The Spring Term
Welcome back to the new term. We hope you all had a lovely holiday and you are ready for all the hard work this term.
Panto at the Lighthouse in Poole
The whole school went to watch Jack and the Beanstalk at the Lighthouse. Buzzard class were extremely excited as they had their classmate Shaya perform on stage. She was incredible and we were all very proud of her. It has put us all into the Christmas spirit now.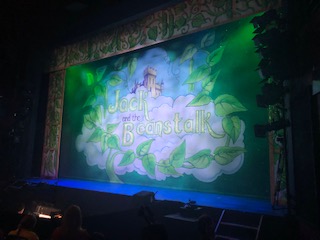 Santa's Sleigh Experiment
We tried to find which of Santa's sleigh would go the furthest. The experiment didn't go exactly to plan but we still had fun. Why don't you have a go!
You will need:
A template of a sleigh
Scissors
Colouring pens/pencils
A race track (a piece of string tied across the room)
A long balloon
A balloon pump
A peg
A straw
Some double-sided sticky tape
What to do:
1.Cut out the sleigh pictures from the template and decorate.
2.Cut a straw in half so you have two shorter pieces.
3.Take one of the pieces and cut along it so you have a slit.
4.Blow up a long balloon with a balloon pump and secure with a peg to stop it deflating.
5.Use double sided sticky tape to stick the straw onto the top of the balloon so the slit is facing upwards.
6.Use more tape to stick the sleighs onto the sides of the balloon.
7.Open the slit in the straw to place onto the string. Remove the peg and watch your sleigh go! Whose went the furthest?
●
The science:
•Draw a diagram of your sleigh whizzing across the room and draw on arrows to show the forces involved.
•Suggest some things you could change about your sleigh to make it go further and explain how they would work.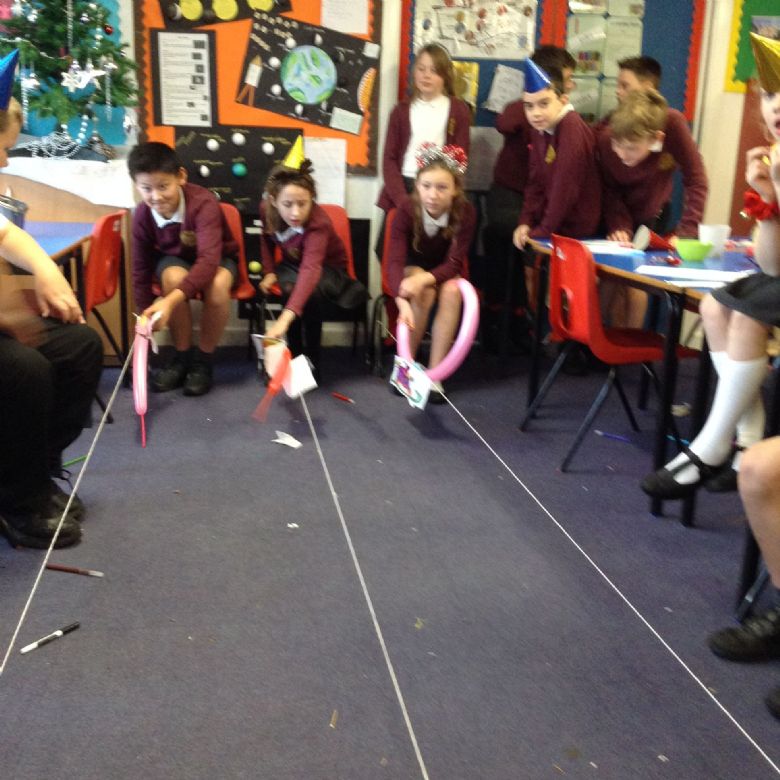 D&T Christmas Day
We had a great day making Christmas decorations for our D & T day. We had to make a wreath out of salt dough, a Christmas tree ornament made from string and twigs and we also had to sew a Christmas jumper to hang on a tree.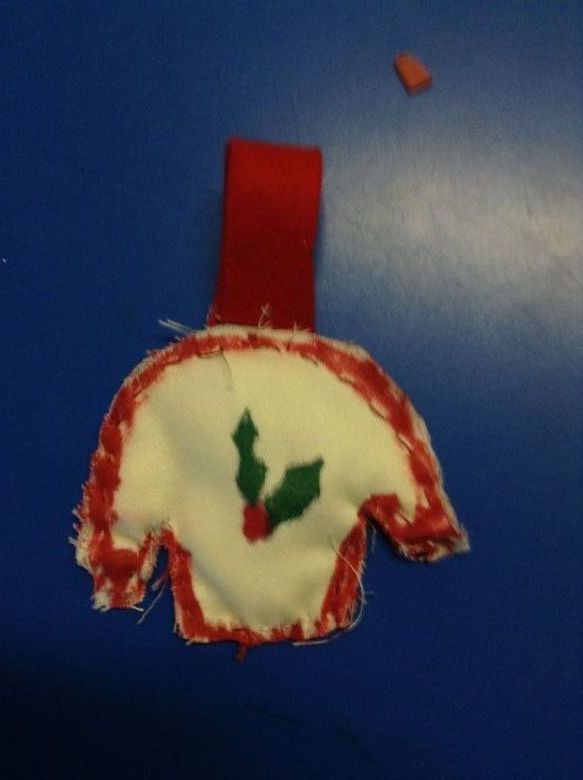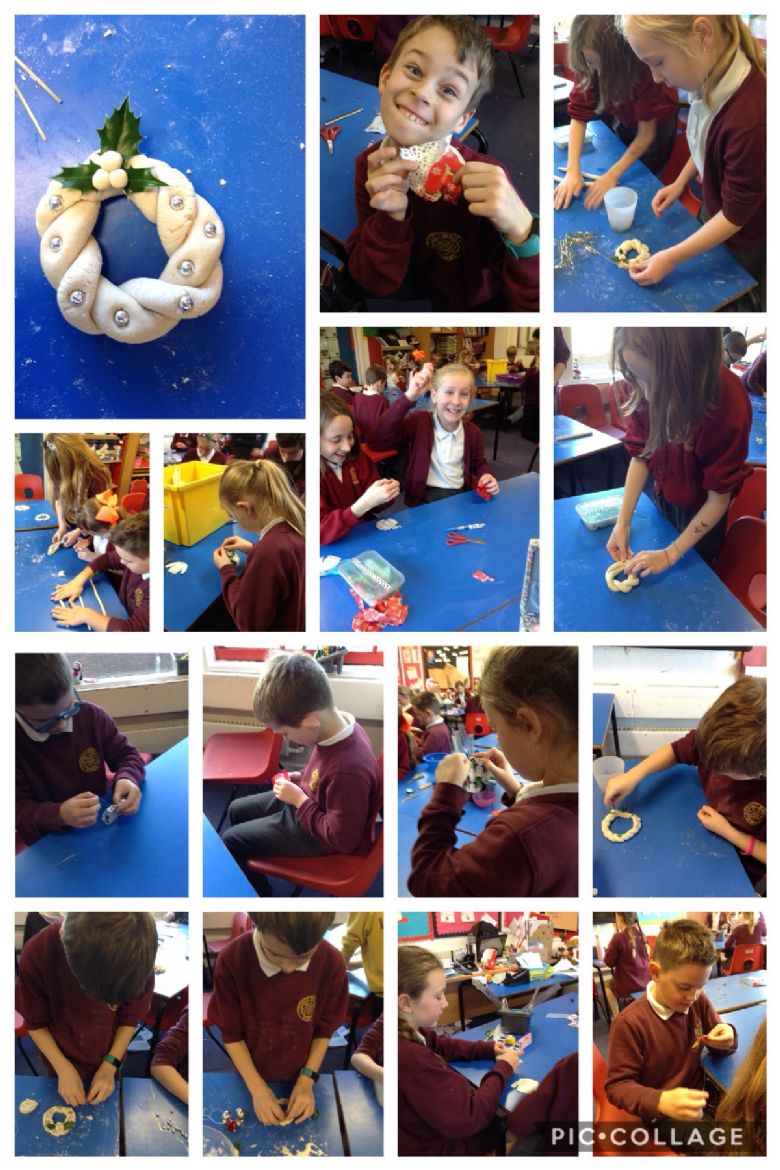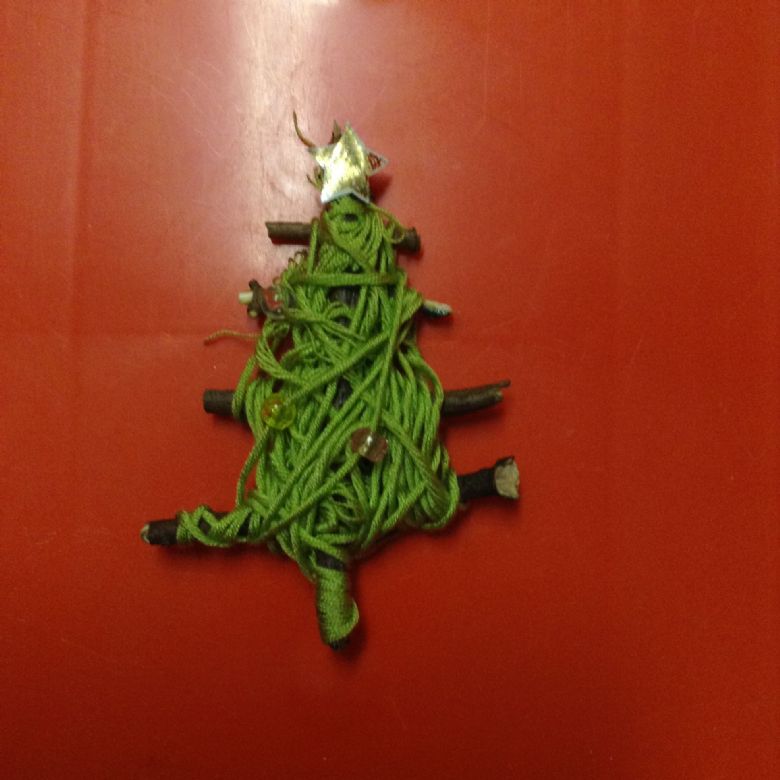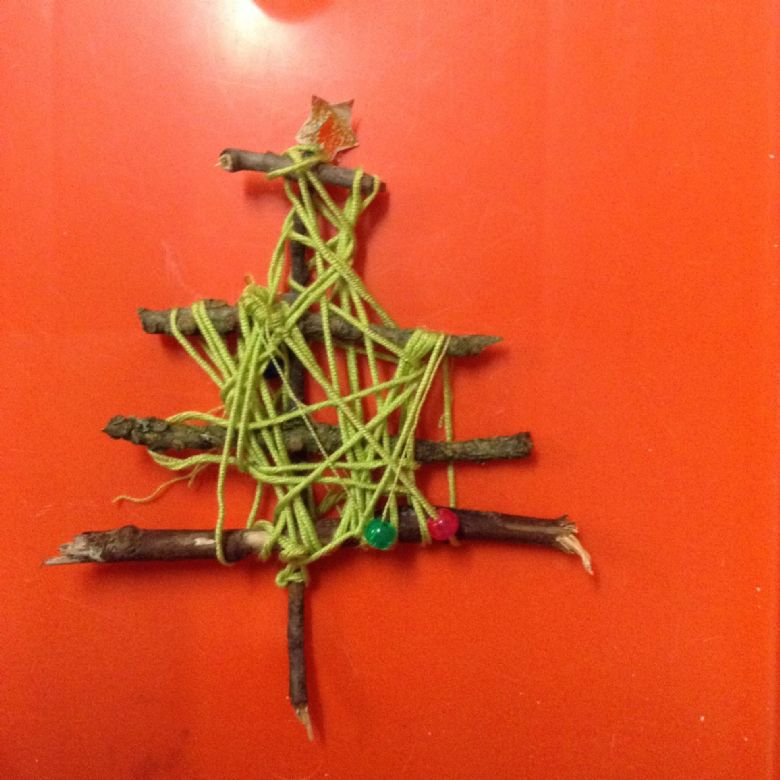 Science Experiment
We were set an investigation challenge!
TOP SECRET MISSION
FRICTION INVESTIGATION
Hello Agent,
Jamie Bond needs your help! When chasing the baddies on his last mission, he slipped!
Friction occurs when two surfaces are in contact with one another.
Jamie Bond's shoes did not generate enough friction when running and…
The bad guys got away!
Your Mission
You need to find out how much force is needed to move a shoe across different surfaces.
You will need:
Your secret agent workbook
A pencil
A sports shoe
A forcemeter (Newton metre)
A selection of surfaces
which surface do you think would have more friction? Why?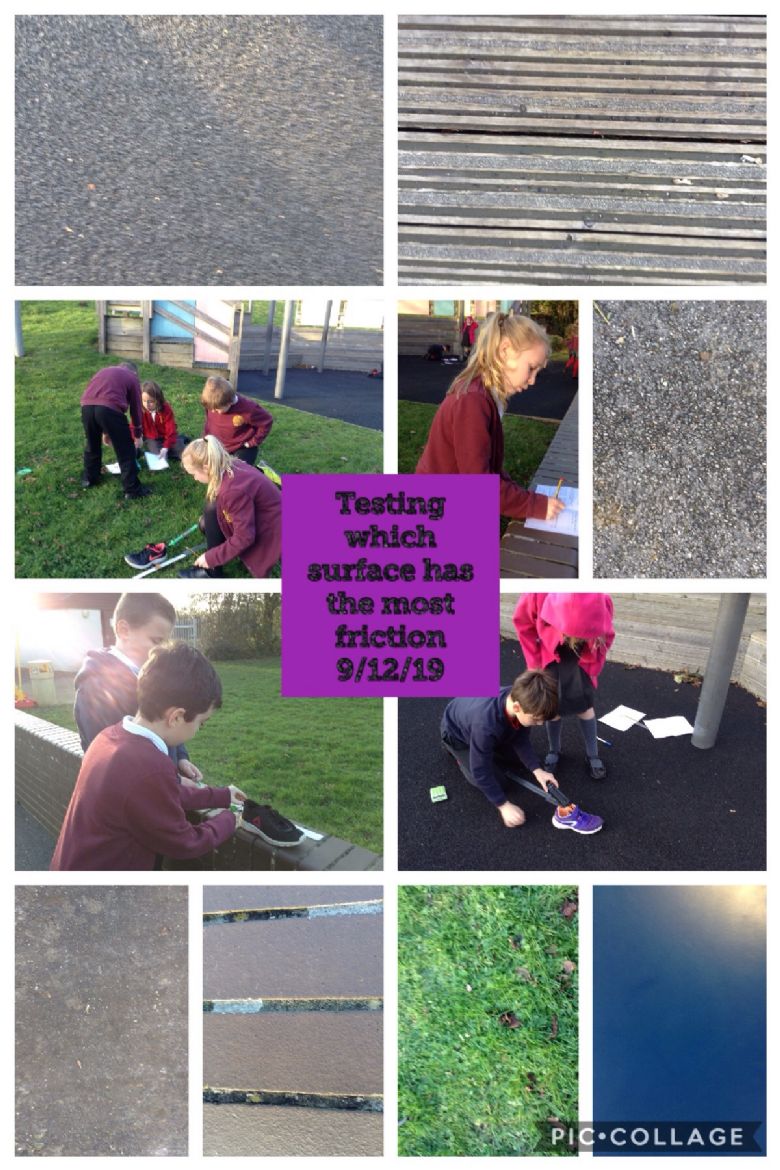 Most of us found out that grass had more friction on the sunny day we did our experiment. Do you think that this would be different on a wet day?
Reverent Partridge
Reverend Partridge came to talk to us about how the Christmas story was written in the Holy Bible. There lots of similarities to the Christmas nativity story we all know- but there were a few differences too. We had lots of questions to ask him! He also told us how this time of the year is the busiest for him.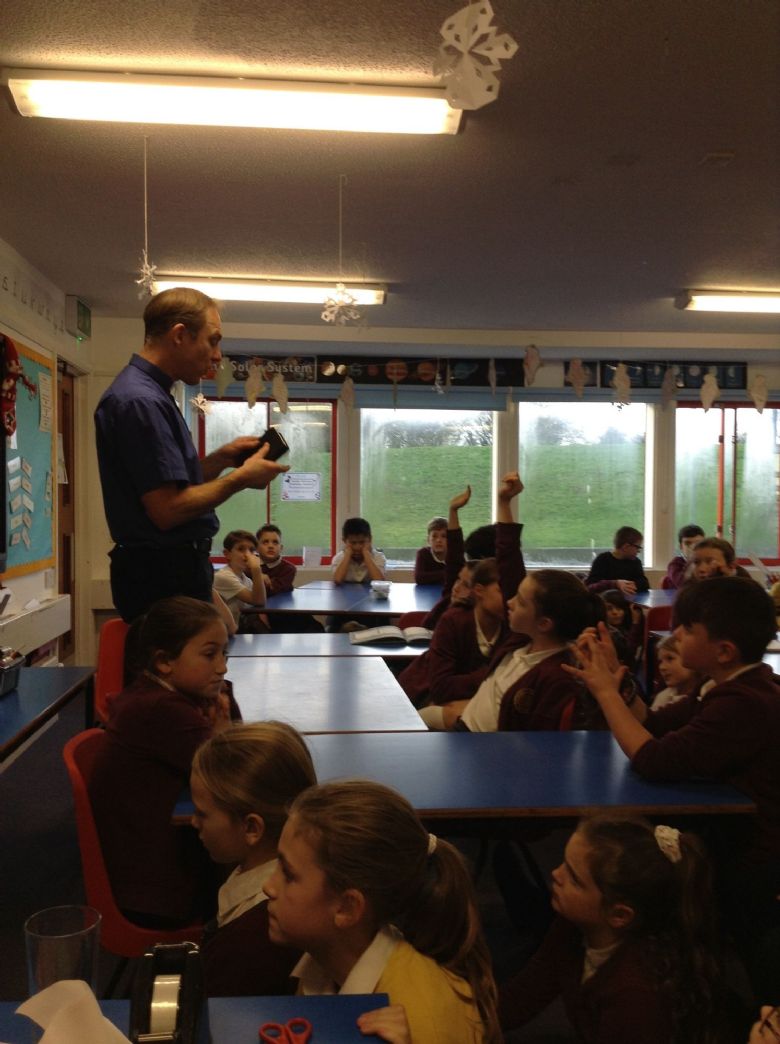 Peter Thorpe
This week we have been learning all about space-themed abstract art. We focused on abstract space artist Peter Thorpe, who is well known for painting rockets. Find out how Peter Thorpe began painting these abstract masterpieces below:
"I started the rocket paintings in the 1980s as a way to use paint that I would have otherwise thrown away. After each commercial job I did, there would be a pallet half full of paint left over and it pained me to toss it, but the next painting required a new pallet. It finally occured to me that I could easily paint an abstract background on a blank board or canvas with the left over paint."
"But, what should I do with the abstracts?"
"I started to do figures, landscapes, and, as a long time space fan, rockets and planets on top of the backgrounds. Some of the figures and landscapes got noticed, but everyone loved the rockets."
"I have a life long love of space exploration, space science and science fiction, in that order. I've worked for years with pro-space groups as a graphic designer, and suddenly they were asking to buy my 'fine-art' rocket paintings.
"People have liked the rocket paintings, so I continue to do them. Thank you to everyone who has supported them."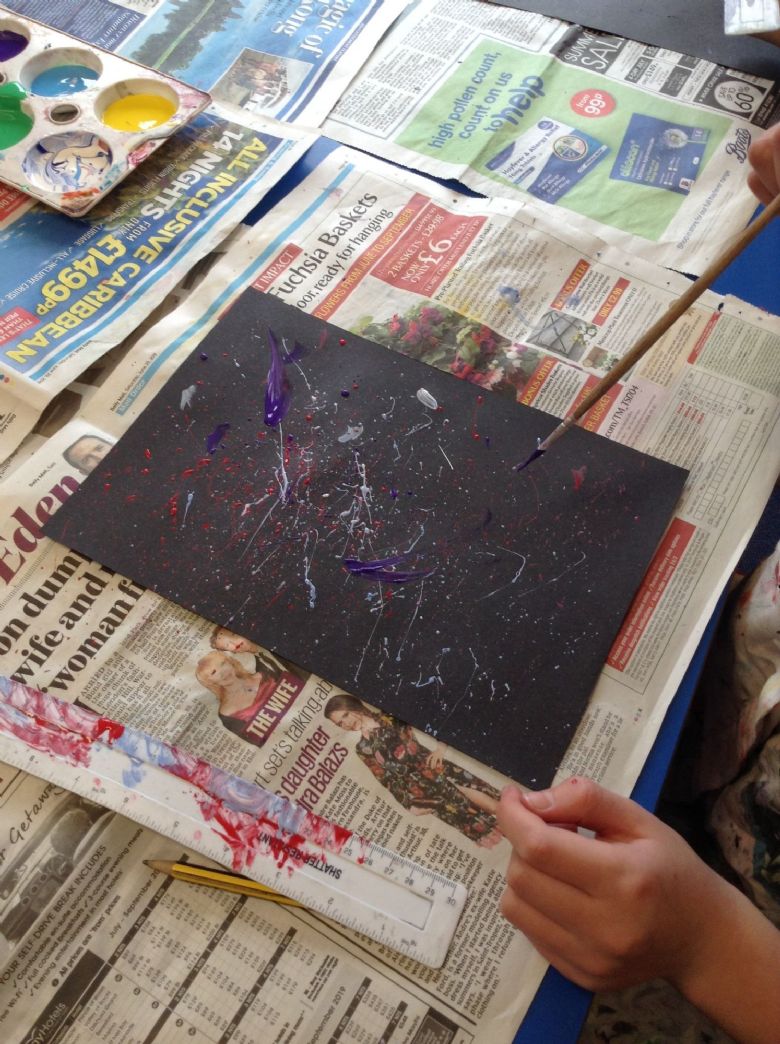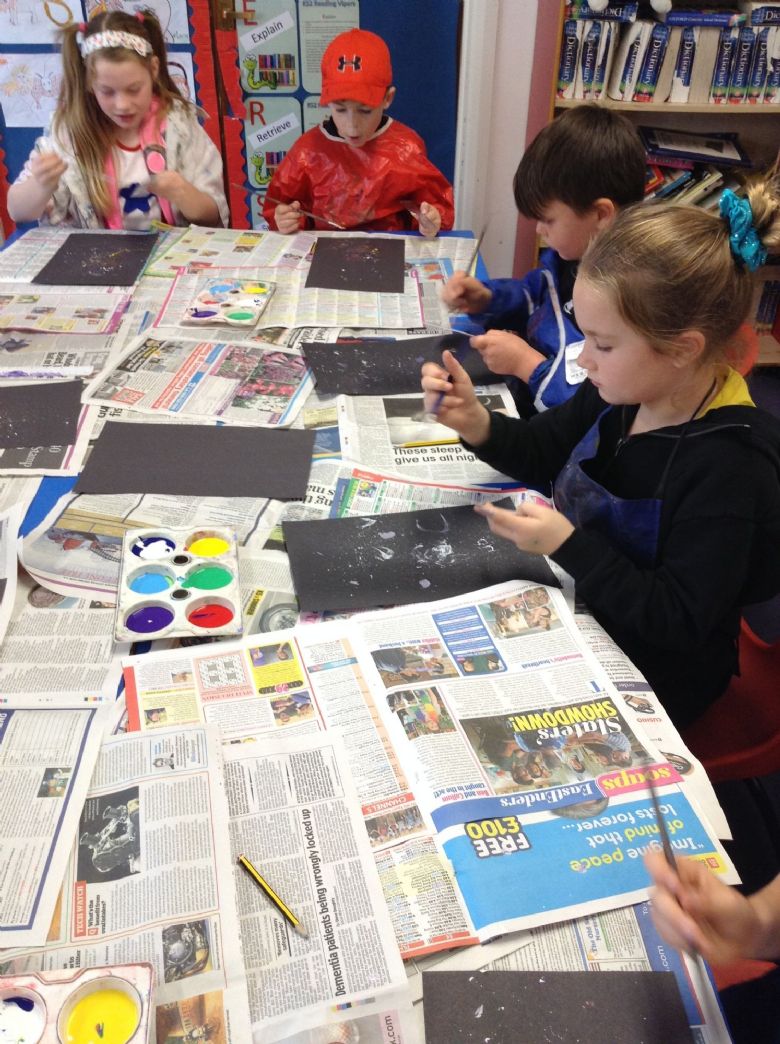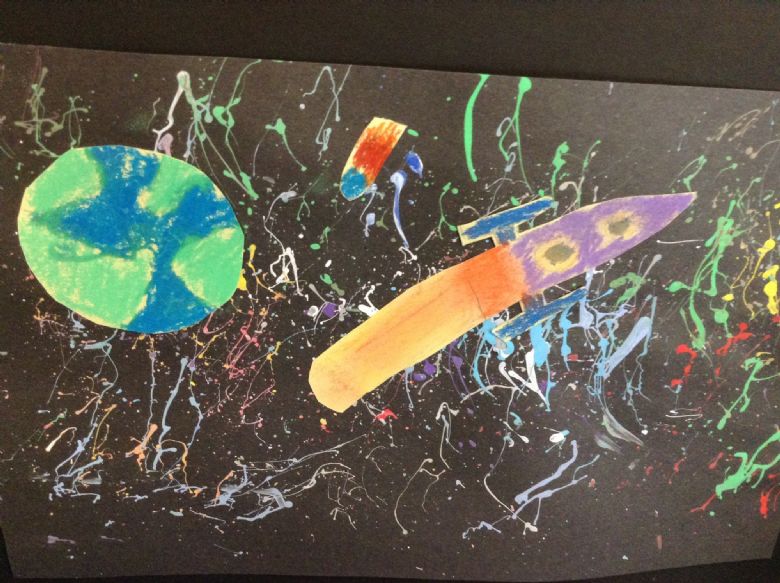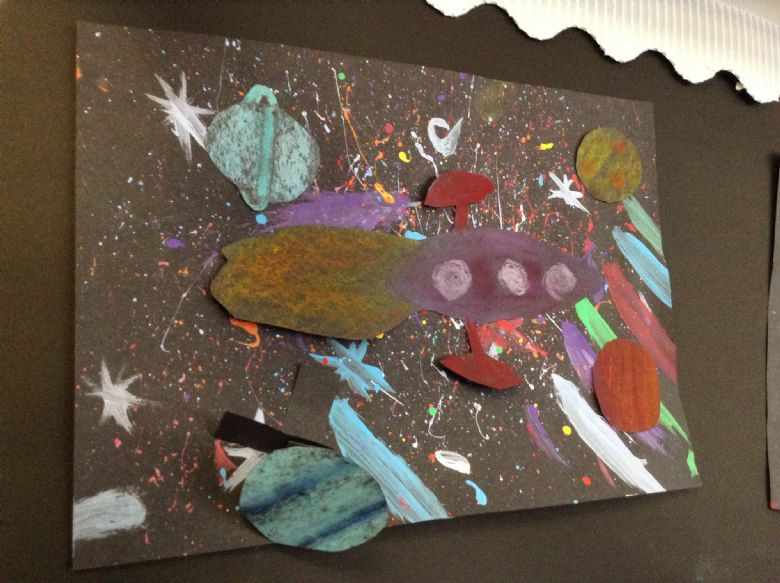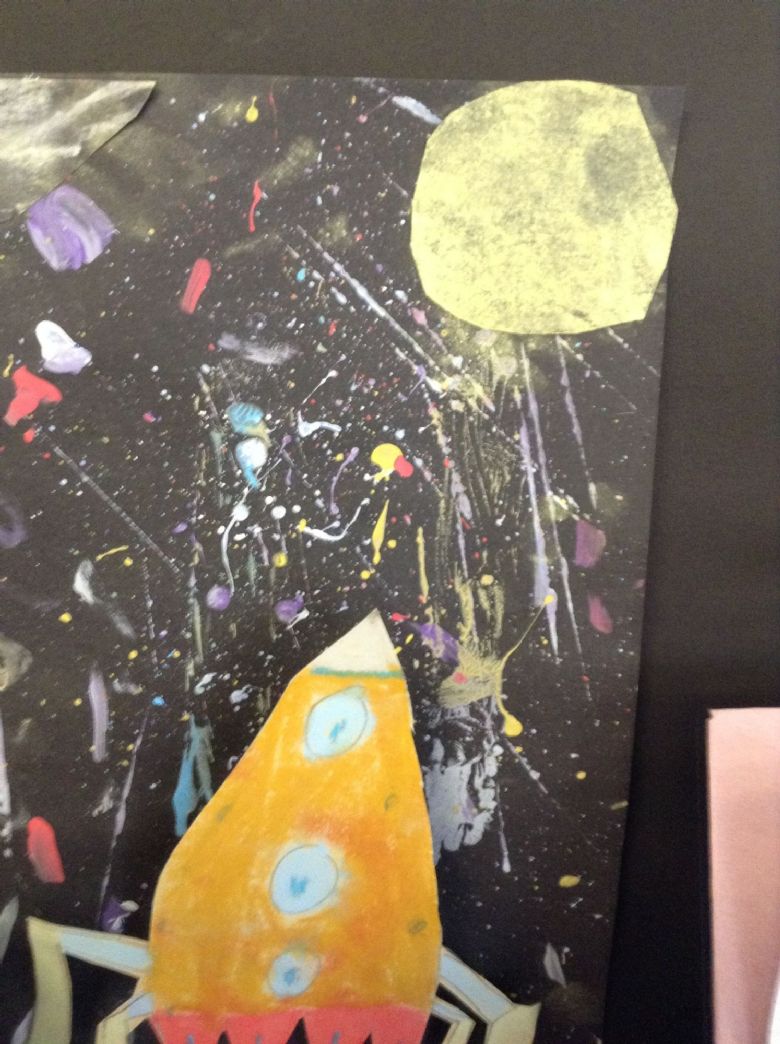 Phases of the Moon Projects
Some of our amazing phases of the moon projects we did for our home learning.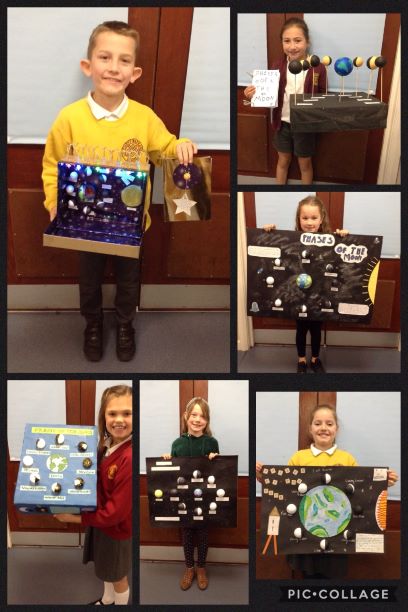 Year 5 Star Gazing Evening
On Thursday 21st November, Year 5 children, parents, grandparents and staff all gathered to gaze at our fascinating solar system. We arrived in our onesies (Mr France even managed to find one!) and begun the evening. We shared some of the great work that we have been doing about Space during our Science lessons – sharing the order and information about each planet.
We looked at each other's Phases of the Moon projects, which created an exciting buzz! Everyone was blown away by the amazing work done by parents and children. Even though there was a little bit of rain, we were able to use our iPads to explore the solar system. We were able to search for planets and constellations, and the app would find them for us!
The evening came to a warming end whilst a cup of hot chocolate and a biscuit was enjoyed by all!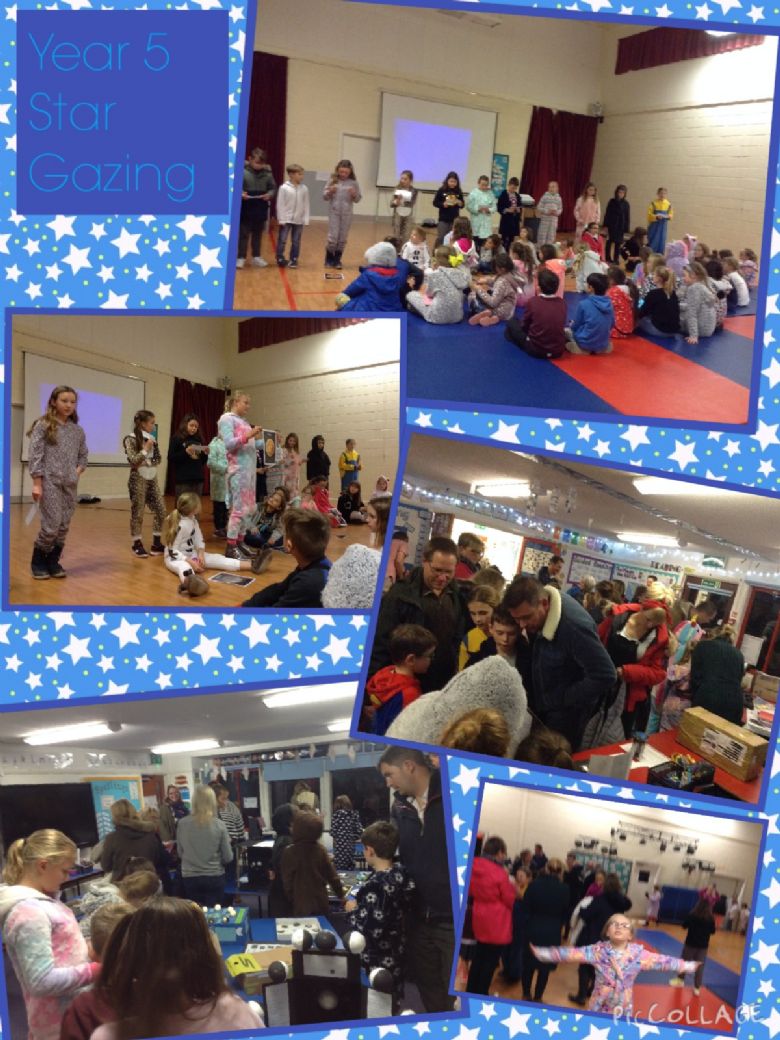 Children in Need
We dressed up as 'Sporty' to raise money for Children in Need this year. To go with the 'Sporty' theme, we went into the hall with the rest of KS2 and complete an Active Eight with Joe Wicks. It was great fun and it got our bodies working!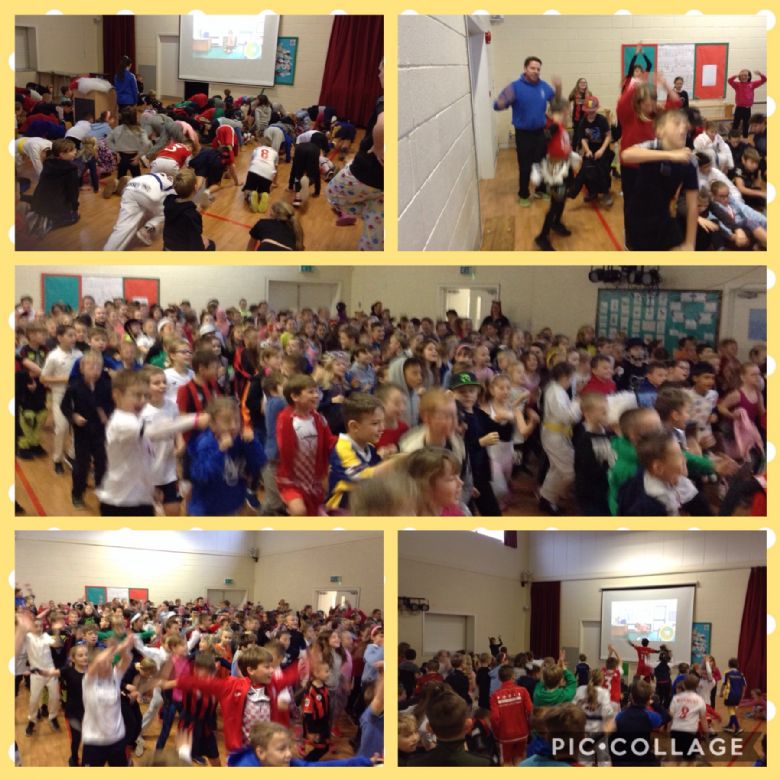 Visual Literacy
In English, we are reading Kensuke's Kingdom by Michael Morporgo. We were put into groups and were given a detailed setting description. We had to work as a team to produce a detailed setting illustration. We were only given 45 minutes to complete the task. Which group do you think has done the best?
Island Setting Descriptions 2
The sun was blazing down. I had not really felt the burning heat of it until then.
I scanned the horizon. If there was a sail somewhere out there in the haze, I could not see it.
The island looked perhaps two or three miles in length, no more. It was shaped a bit like an elongated peanut, but longer at one end than the other. There was a long swathe of brilliant white beach on both sides of the island, and at the far end another hill, the slopes steeper and more thickly wooded, but not so high as mine. With the exception of these twin peaks the entire island seemed to be covered with forest. So far as I could see there was no sign of any human life.
I remember thinking how wonderful it was, a green jewel of an island framed in white, the sea all about it a silken shimmering blue.
I sat down in the shadow of a great rock.
The gibbons set up a renewed chorus of howling and hooting in the forest, and a flock of raucous birds clattered up out of the canopy of the trees below us and flew off across the island to settle in the trees on the hillside opposite.
I soon discovered that the track down through the trees was bereft of all edible vegetation. I did see fruit of sorts, what looked to me like fruit, anyway. There were coconuts up there too, but the trees were all impossible to climb. Some rose a hundred feet, some two hundred feet from the forest floor – I had never seen such giant trees. At least the intertwining canopy did provide welcome relief from the heat of the day.
When the beach petered out, we had to strike off into the forest itself. Here too I found a narrow track to follow. The forest became impenetrable at this point, dark and menacing. There was no howling any more, but something infinitely more sinister: the shiver of leaves, the cracking of twigs, sudden surreptitious rustlings, and they were near me, all around me. I knew, I was quite sure now, that eyes were watching us. The rustlings came ever closer, ever more threatening.
This end of the island appeared to be littered with massive boulders that lay like tumbled cliffs.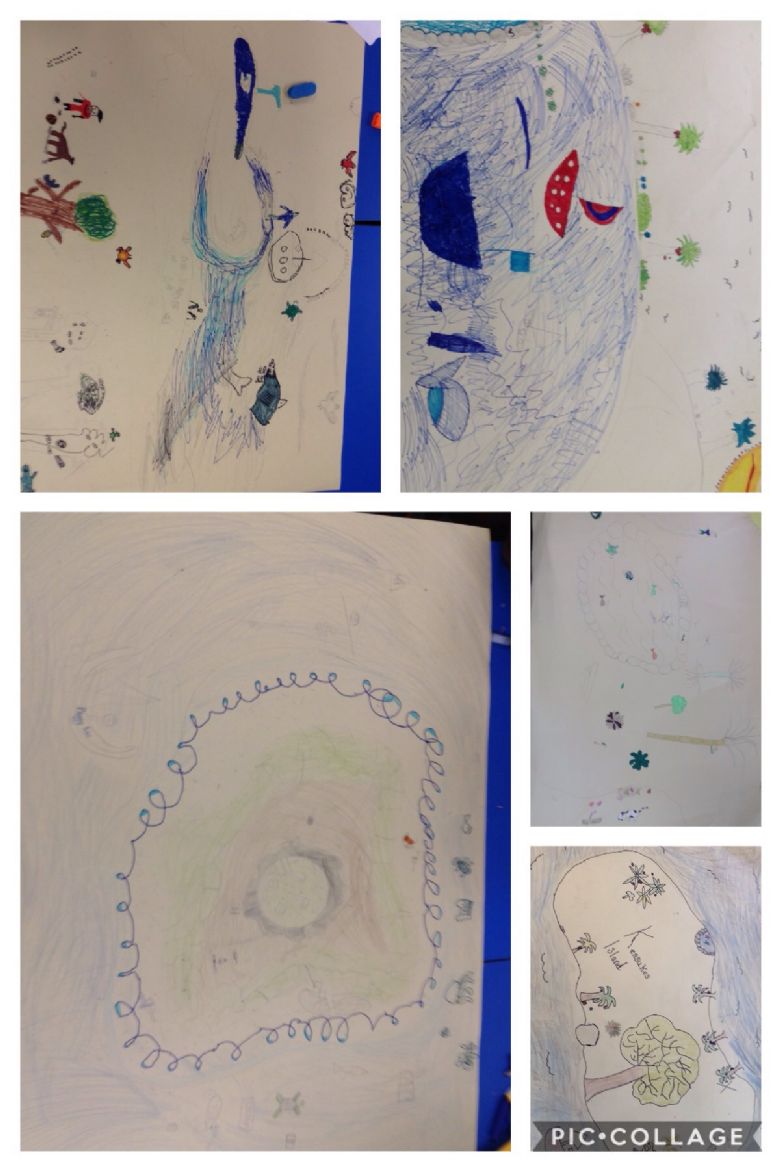 Silk Painting
Mrs King came in to do some silk painting with us. We were painting an abstract scene from the solar system. I wonder what we will make from this .........?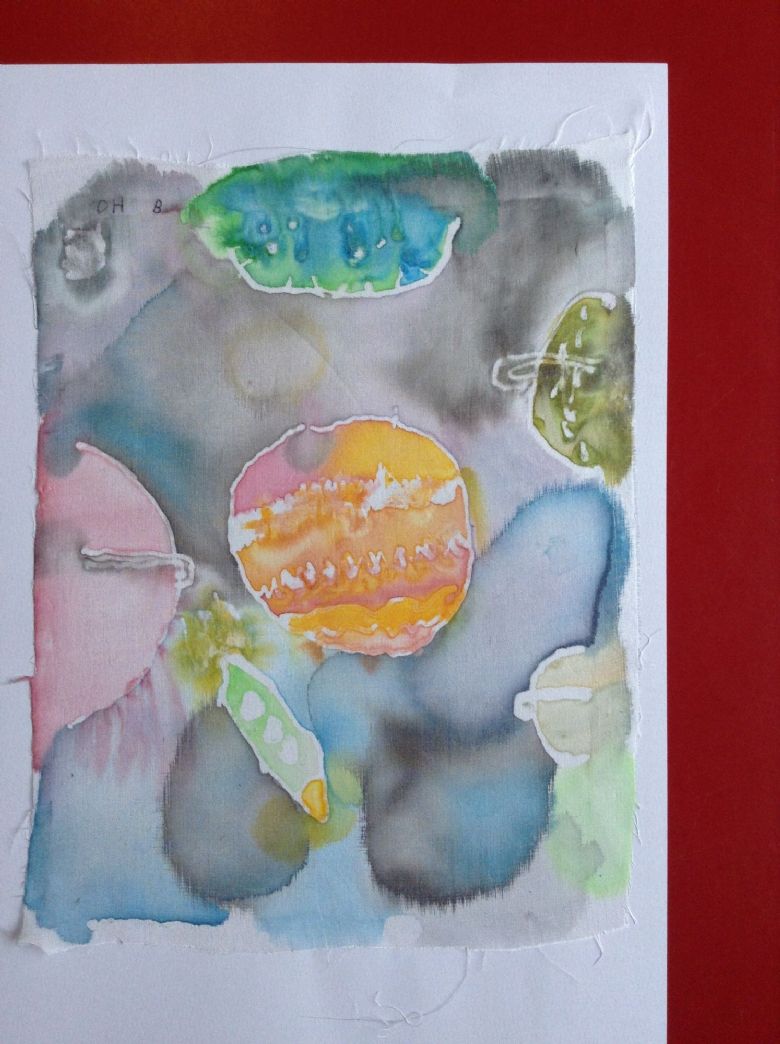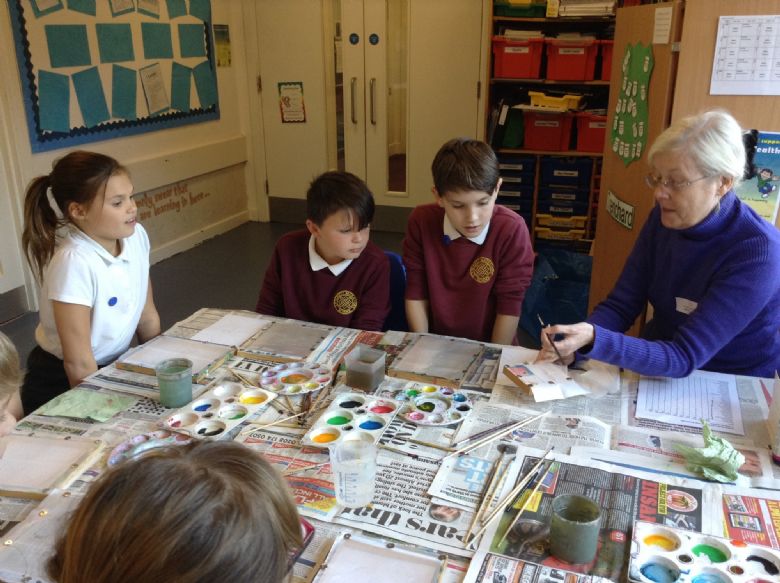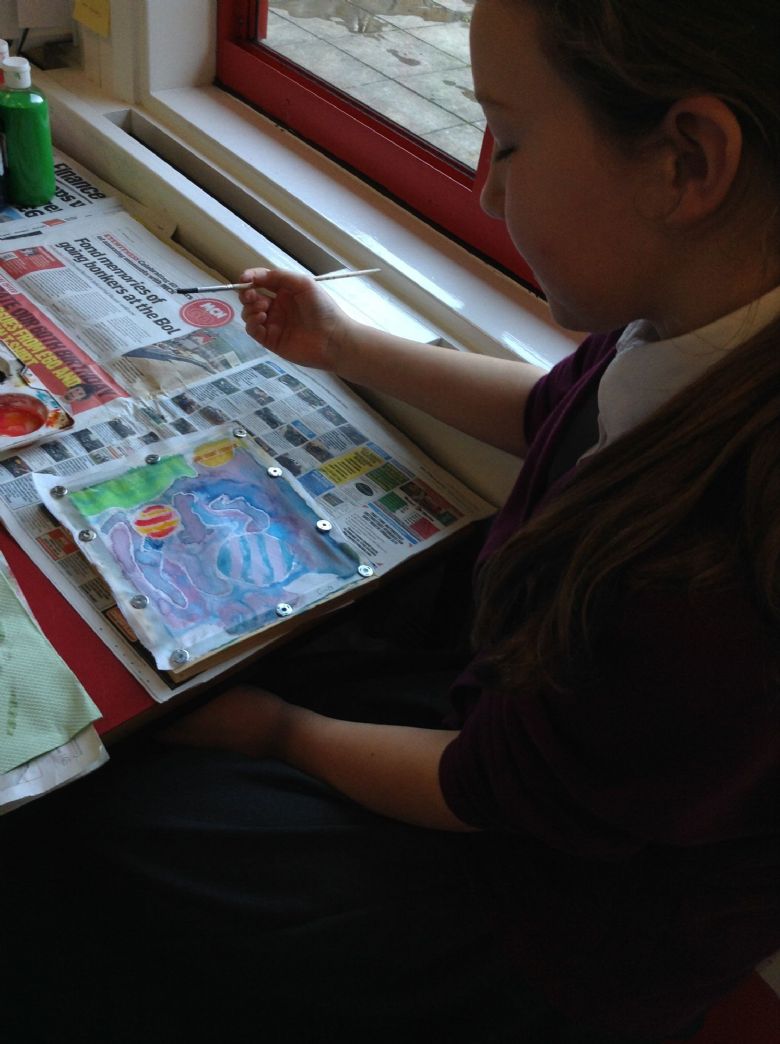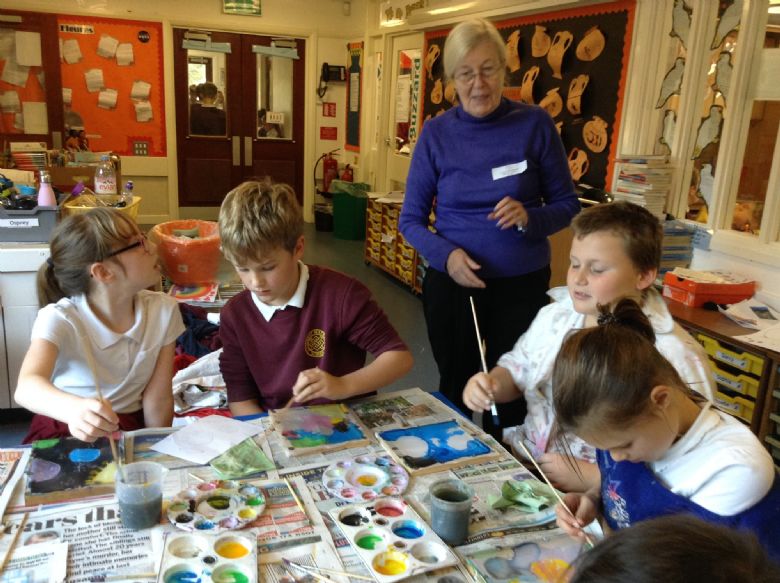 Black History Month
During Black History month, we learned about Martin Luther King. Here is a biography and a portrait drawn by Juno and Gemma.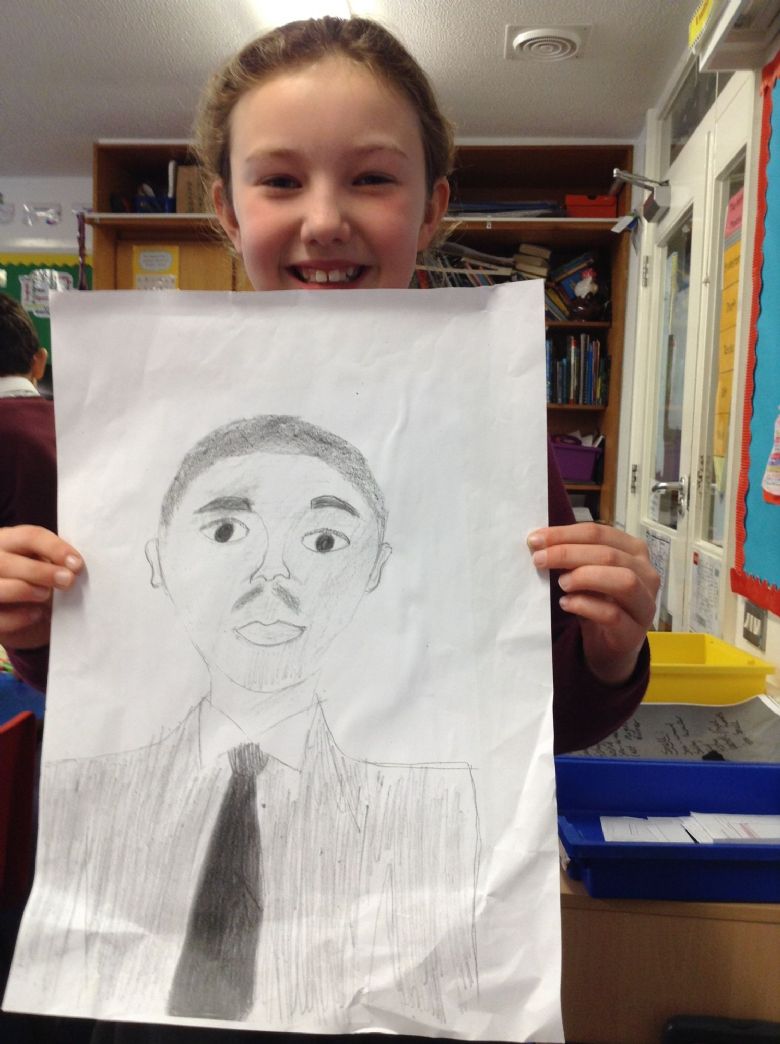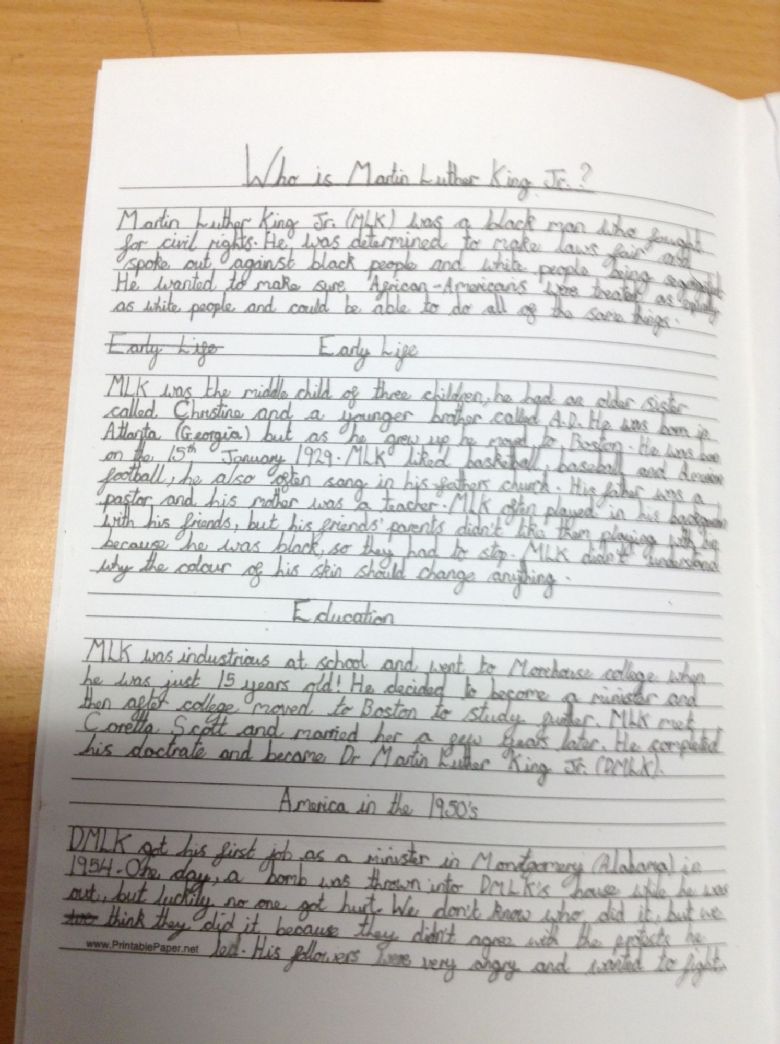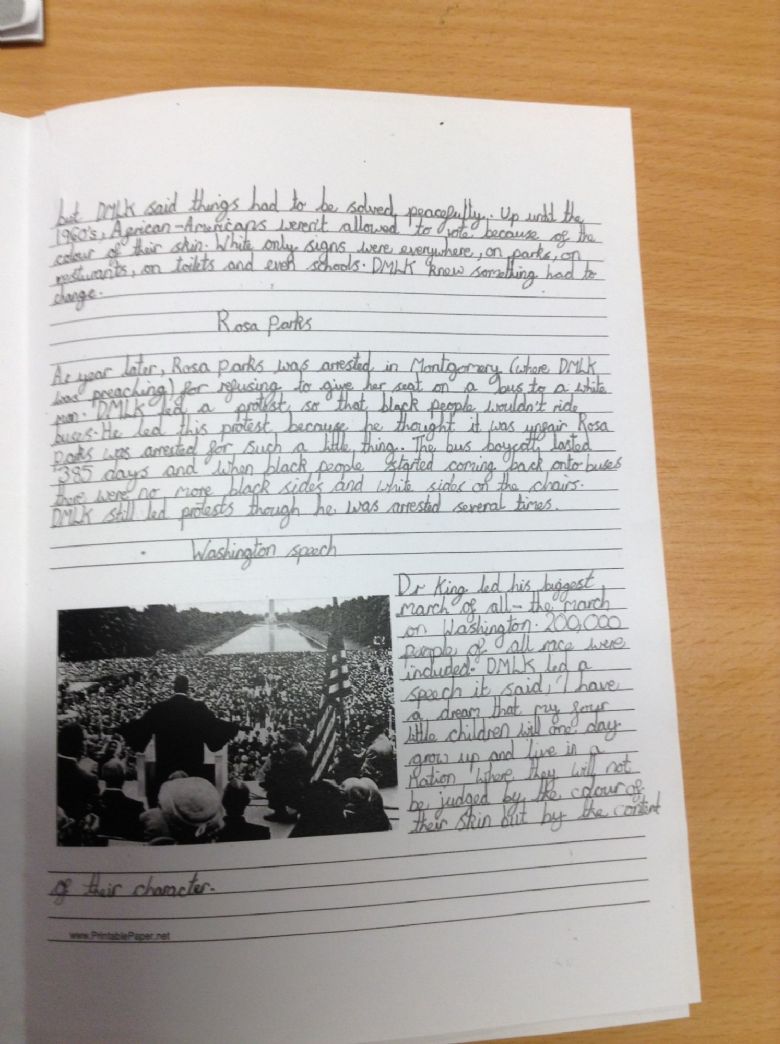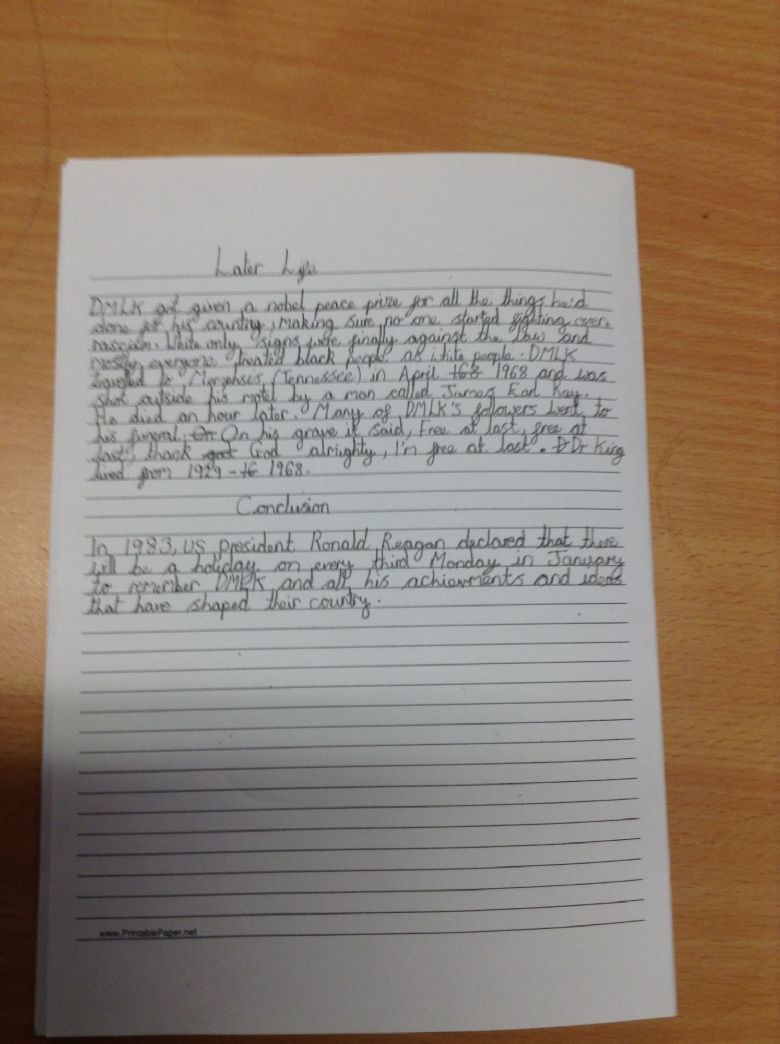 Our Greek Drama Day
On Wednesday the 16th of October we did our Greek drama day with Treehouse Theatre, where we did a play in a day! This which was so much fun!
Firstly, we all walked silently into the hall, everyone greeted Ben and he talked us through the routine and our groups! Group one (Creation according to Zeus) started to work with Ben, meanwhile, all the other groups did some Greek activities in the classroom.
We were given our own cue cards with our quotes which we had to learn and rehearse. Then, we switched over to group two (Ancient Olympic Games) so group one had their go with the Greek tasks back in the classroom. Group three (Alcibiades in Athens) and group 4 (Greek theatre) then got to work with Ben.
After we had rehearsed our lines and scenes, it was then SHOW time! We all went into the hall and started our play. It was very funny and entertaining. We all did really well considering we didn't have a long time to practise. We really enjoyed it!
Shared write- by Buzzard class
Boot-camp with Year 2
Year 5 and Year 2 got together for a boot-camp workout. We all enjoyed it and got very hot and sweaty.
Timeline of the different Civilizations
We had to sequence the different Civilizations on a timeline. Do you know what order the following civilizations come on on a timeline?
Roman Civilization
Tudors
Ancient Egyptian Civilization
Anglo-Saxons Civilization
Victorians
Ancient Greek Civilization
Vikings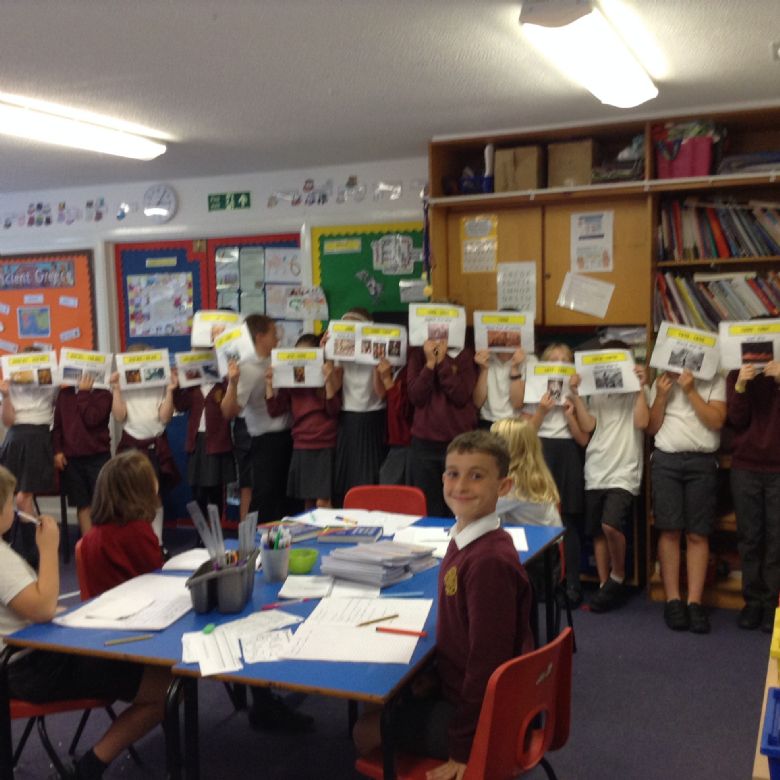 Our Winning Chimaera

Our Runners Up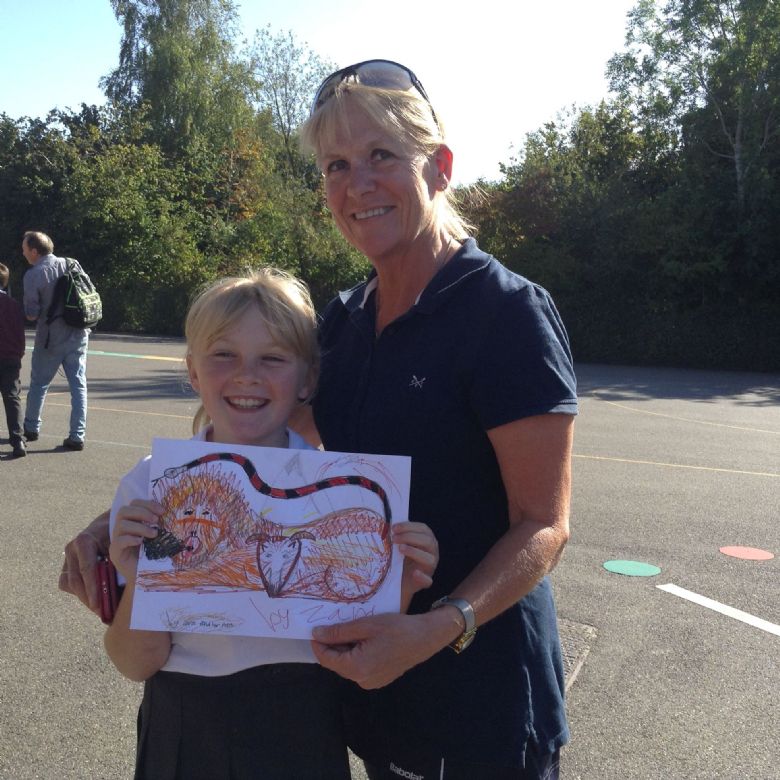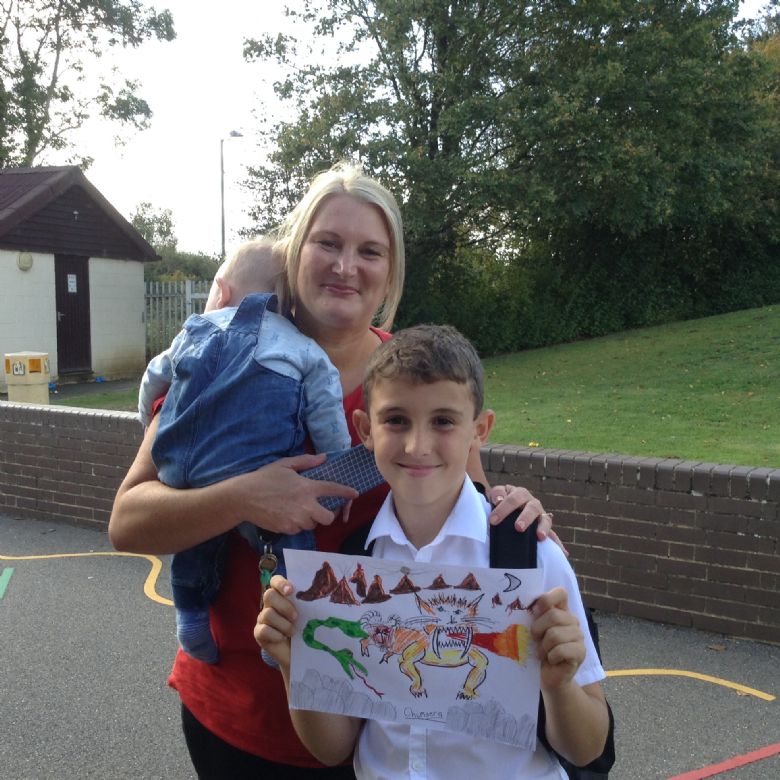 Parents Meet the Teachers
Year 5 parents came in to meet the teachers and to find out more about Year 5. We set them a challenge to draw a beast from Greek mythology - The Chimaera. We voted for the most creative pictures. Winners coming soon.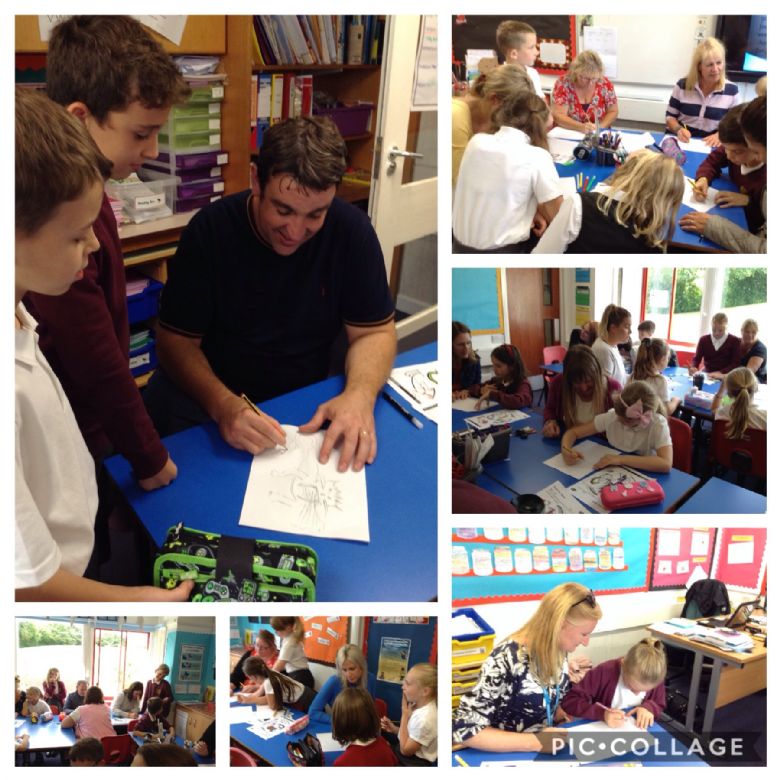 Apple Art
Every year we have to sketch an apple from the orchard for our art assessment. We love our orchard as we get to eat lots of delicious apples too.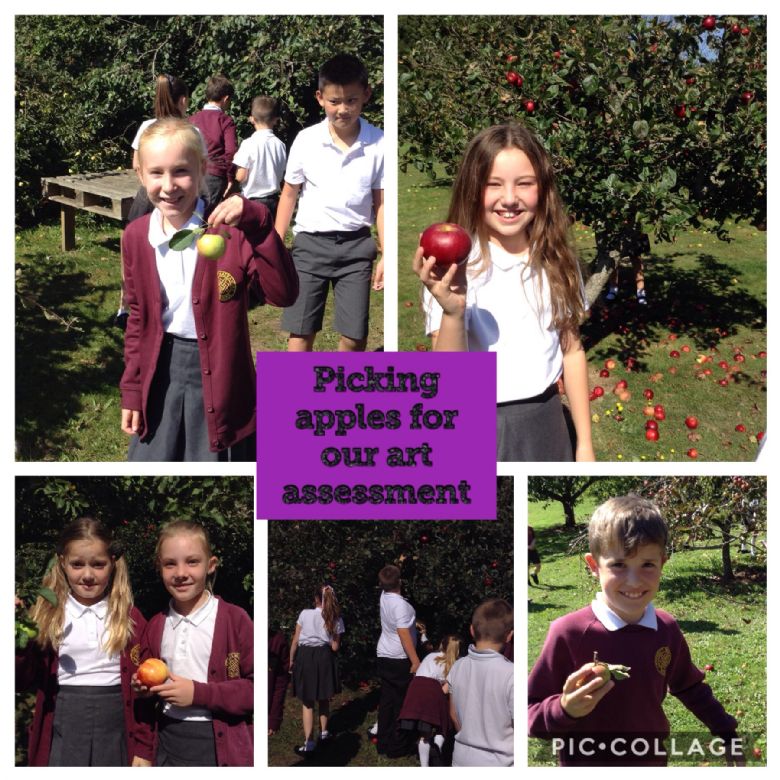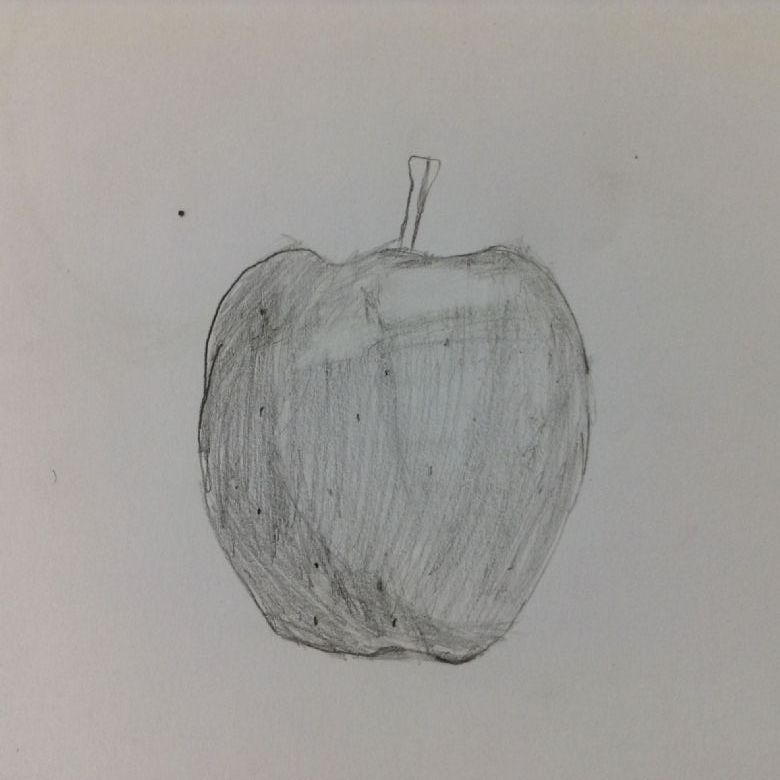 Team Challenge
We had a challenge to make a bridge using only two pieces of paper. Our bridge had to hold two unifix cubes. We had to work together as a team. We were then challenged to see who could make the tallest tower using the pieces of paper.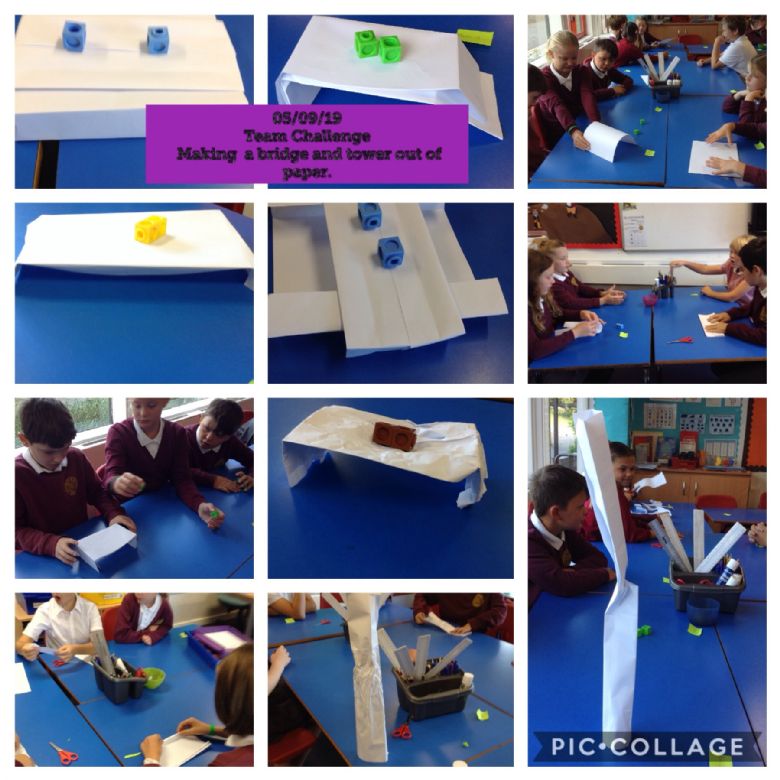 Our Friendship Poem
We had to work with our new teams to create a recipe for a good friendship. This was voted as the best one to display in the classroom.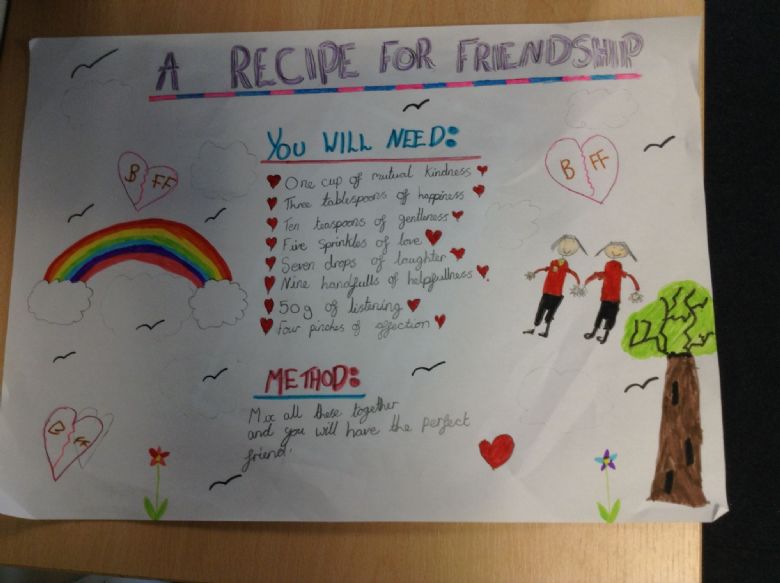 Our Summer Bingo Challenge
We had random bingo tasks to do over Summer. We had lots of fun doing them. Here are some of our best moments.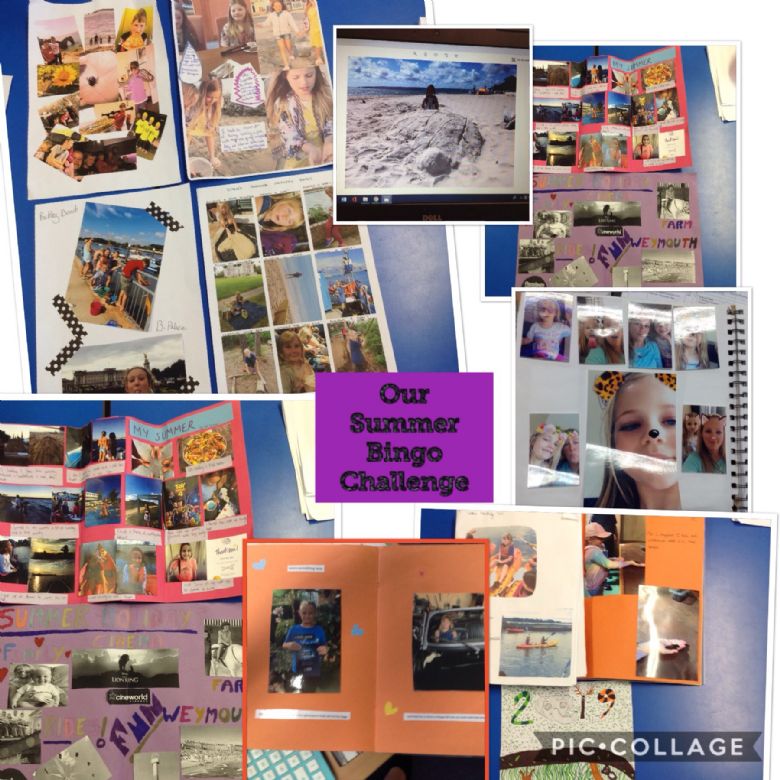 Welcome to Buzzard Class
We hope you all had a fabulous summer. Welcome to Buzzard Class. We hope that you are all going to enjoy your time in Year 5! All your teachers are looking forward to getting to know.